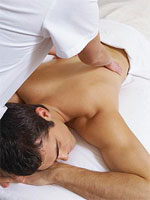 Massotherapy's role is to diminish and relax muscle tension which contributes to a variety of pains.
The massotherapist has a good knowledge of the anatomy of the musculoskeletal system allowing her to evaluate and treat different kinds of muscle tensions and relieve them.
The therapeutic massage helps in alleviating pains due to muscle tensions and aids in finding a generalised relaxation of the human body.